Price valid until 11:59pm on
New Chevy Equinox SUVs | Denville, NJ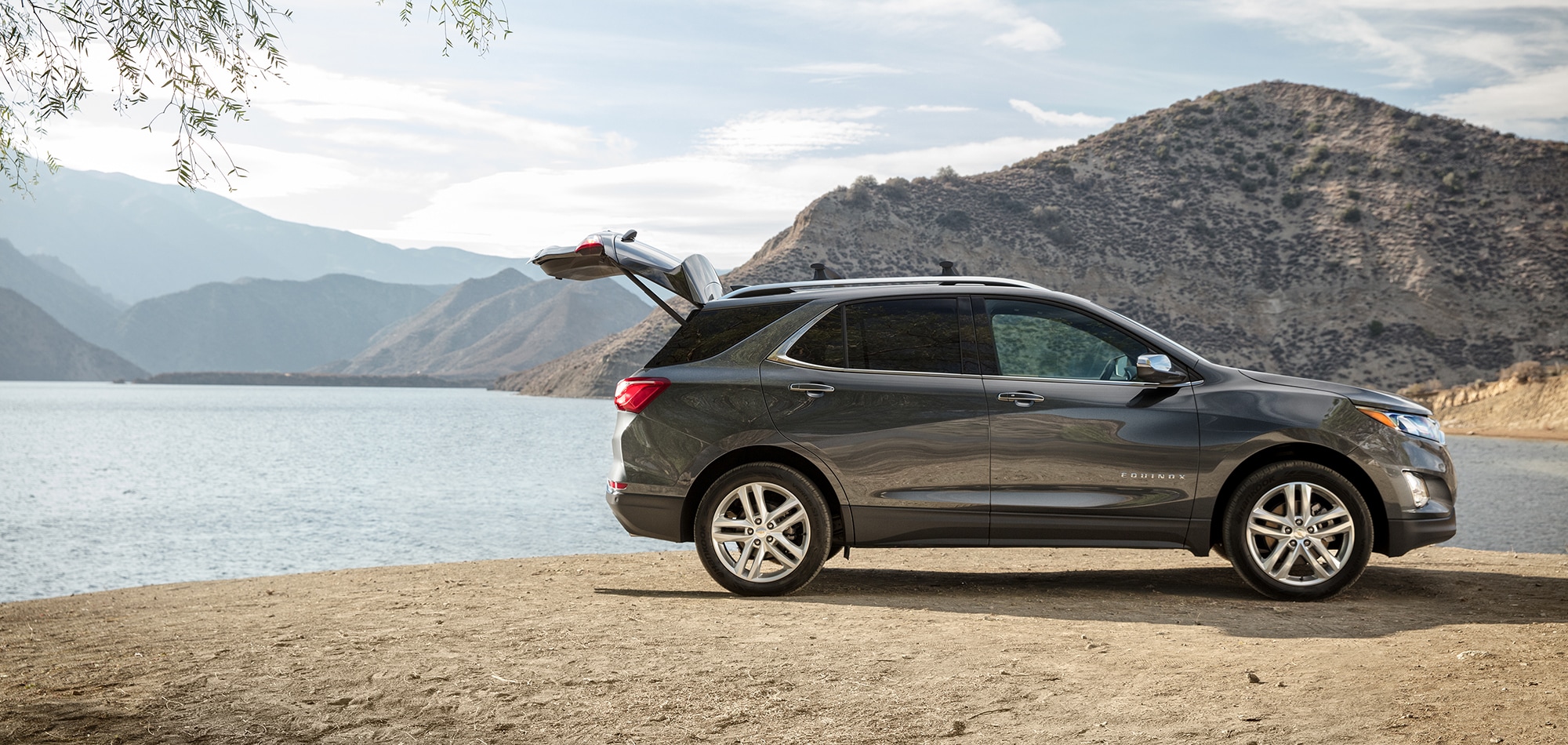 The New 2023 Chevy Equinox
for Sale in Denville
---
The kids have to go to practice. You have to stop at the store, pick up sports equipment for the kids, grab a few things from the office and pick the kids up again. That's a lot of running around to do on a Saturday. The good thing is that you've got a 2023 Chevy Equinox to help lighten the load. With amazing interior space, excellent handling on city streets, and top-notch efficiency and comfort, your time behind the wheel will feel like home.

2023 Equinox: Small in Size, Big on Efficiency
---
When the weekly activity kicks up a few notches, the 2023 Equinox will handle the twists and turns. With a turbocharged engine, roomy cabin, and intuitive infotainment system, the Chevy Equinox is an ideal choice for a peaceful commute. And it's an economical choice for families across Montville. The Equinox starts at $26,600, while the version with all the bells and whistles starts at $31,800. Let's see what you get with the 2023 Chevy Equinox.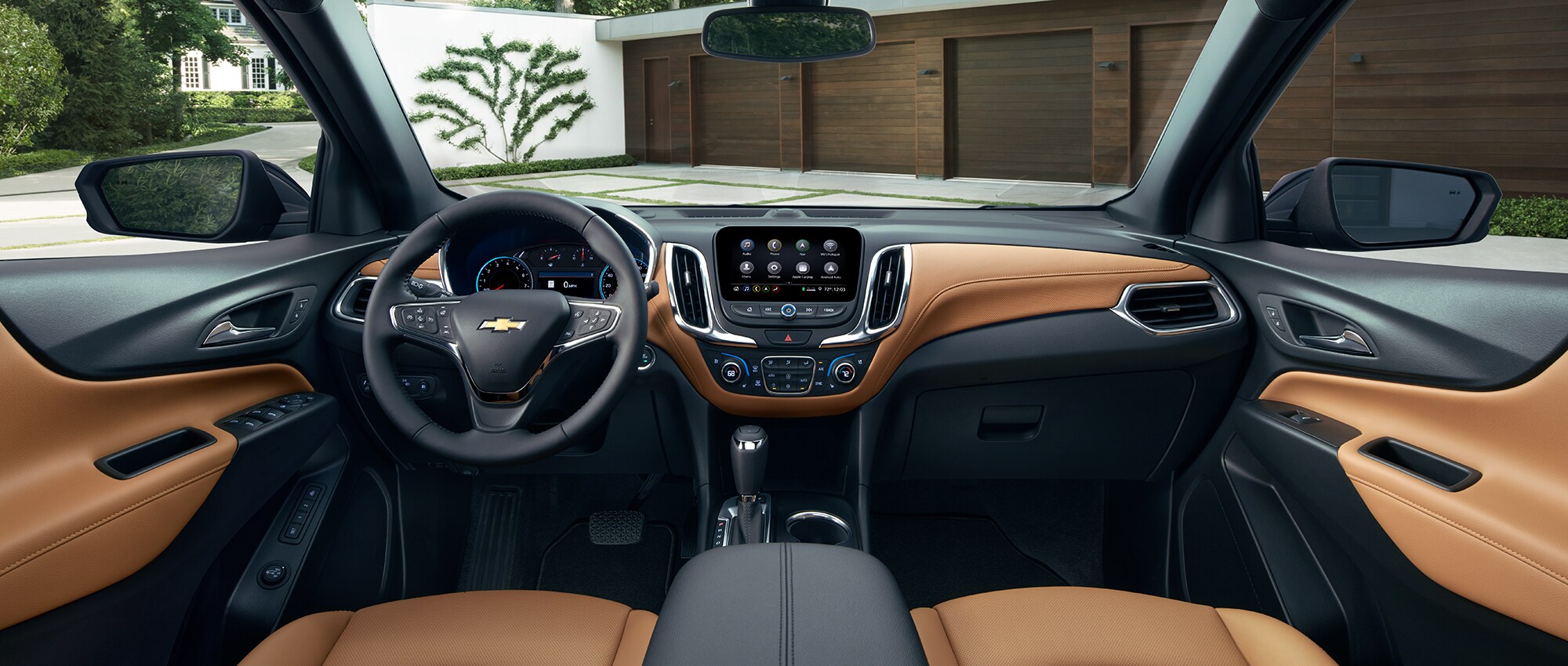 Infotainment and Interior Design
---
The interior seats five adults comfortably with available jet-black perforated leather seats with memory for the front row. When it's time to load the work equipment, sports merchandise, and groceries into the rear, you'll have a maximum of 63.9 cubic feet of space and convenient 60/40 split bench seats to fit longer items. There's also a hidden storage underneath the floor in the rear.
The Chevrolet Infotainment System features a standard 7-inch infotainment touchscreen and features included in the myChevrolet app. With the myChevrolet app, you'll have access to various remote-controlled technologies inside the 2023 Equinox.
You can start your vehicle, lock your doors, or check diagnostic reports from your bedroom in Parsippany. Standard entertainment features also include Apple CarPlay® and Android Auto™ integration and a 4G LTE Wi-Fi hotspot.

Performance
---
The turbocharged 1.5L engine is standard across all trim levels. With surprising acceleration and control, you'll climb onto the freeway and get up to speed quickly in Morristown. The 1.5L engine offers 170 horsepower and 203 lb.-ft. of torque. Just enough to put some pep in your step when needed. But you're not searching for an Equinox because you want to finish first on the drag strip. You've got your eye on this model because of its dependability, spacious cabin, and impressive handling on city streets.
The small turning radius will make it easier to maneuver around crowded parking lots or weave in and out of traffic. The smooth-shifting six-speed automatic transmission is a worthy addition to a solid crossover SUV. And the money-saving EPA-estimated 26-31 MPG city/highway will lower spending at the pump and increase savings in your bank account.
All-Wheel Drive is available on any trim level. So, whether it's rainy, snow, or sleet, you'll have the traction support you need with the 2023 Equinox. And in Dover, NJ added support on the road is just what the doctor ordered.

Safety
---
The Chevy Equinox offers the most standard safety features available in its class. You'll have standard features like electronic stability control, lane departure warning, and lane-keeping assistance. You can upgrade the accident-prevention features inside the 2023 Equinox with additions like blind-spot monitoring, cross-traffic alert, and more.
You've got many places to go. So, it's best to travel in a vehicle you and your family will be comfortable in. When it comes to convenience, safety, efficiency, and cost, the 2023 Chevy Equinox delivers a knockout combination for you and your family. Check us out today. We'd love to help you get the vehicle you and your family deserve.
L
170 Horse Power, 1.5 Liter Inline 4 cylinder; 203 lbs.-ft Torque at 2,000 rpm
Six-speed automatic transmission
Front Wheel Drive
4G LTE Wi-Fi Hotspot capable
Rear vision camera
Smart Device Integration; Apple CarPlay / Android Audio
Single-zone manual climate control
USB / auxiliary ports
2 exterior colors
LS
170 Horse Power, 1.5 Liter Inline 4 cylinder; 203 lbs.-ft Torque at 2,000 rpm
Six-speed automatic transmission
Front Wheel Drive | All Wheel Drive
4G LTE Wi-Fi Hotspot capable
Premium cloth seat traim
Smart Device Integration; Apple CarPlay / Android Audio
Single-zone manual climate control
Forward collision alert & Front pedestrian braking
6 exterior colors
LT
170 Horse Power, 1.5 Liter Inline 4 cylinder; 203 lbs.-ft Torque at 2,000 rpm (regular gas) or 136 Horse Power, 1.6 Liter Inline 4 cylinder; 240 lbs.-ft Torque at 2,000 rpm (diesel)
252 Horse Power, 2.0 Liter Inline 4 cylinder; 260 lbs.-fit Torque at 2,500 rpm (regular gas)
Six-speed automatic transmission or Nine-speed automatic transmission
Front Wheel Drive | All Wheel Drive
4G LTE Wi-Fi Hotspot capable
Premium cloth seat trim
Smart Device Integration; Apple CarPlay / Android Audio
Single-zone manual climate control
Forward collision alert & Front pedestrian braking
Deep-tinted rear glass
4.2 in multi-color driver info screen
11 exterior colors
Premier
170 Horse Power, 1.5 Liter Inline 4 cylinder; 203 lbs.-ft Torque at 2,000 rpm (regular gas) or 136 Horse Power, 1.6 Liter Inline 4 cylinder; 240 lbs.-ft Torque at 2,000 rpm (diesel)
252 Horse Power, 2.0 Liter Inline 4 cylinder; 260 lbs.-fit Torque at 2,500 rpm (regular gas)
Six-speed automatic transmission or Nine-speed automatic transmission
Front Wheel Drive | All Wheel Drive
4G LTE Wi-Fi Hotspot capable
Premium cloth seat trim
Smart Device Integration; Apple CarPlay / Android Audio
Dual-zone manual climate control
Forward collision alert & Front pedestrian braking
Deep-tinted rear glass
4.2 in multi-color driver info screen
Roof mounted side rails
Rear park assist
10 exterior colors